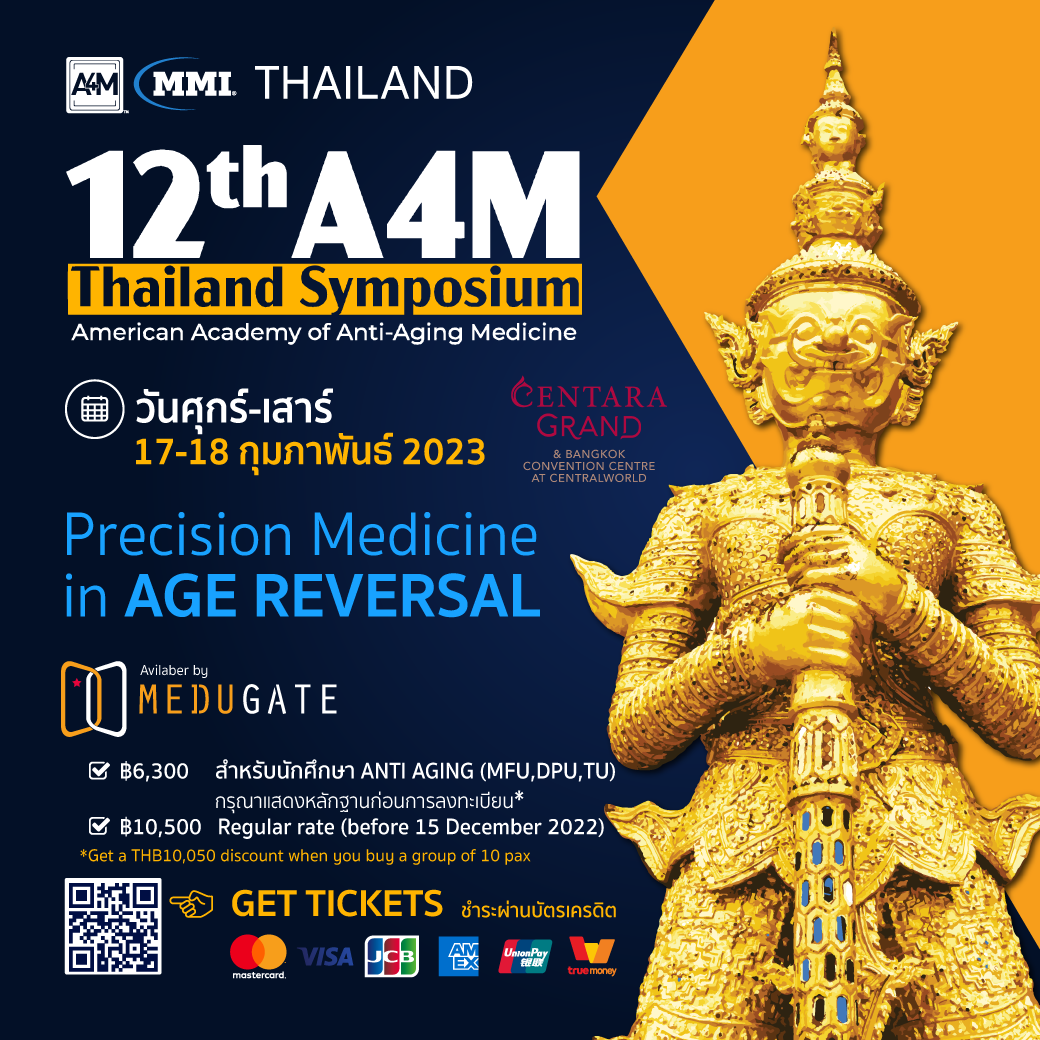 ---
Explore The Revolutionary Power of Regenerative Medicine
The 12th A4M Thailand Symposium is the premier Anti-Aging and Wellness event in Asia that gathers an exclusive collection of world-class speakers to present a range of evidence-based science, research and extensive medical protocols in the realm of Anti-Aging, Aesthetics and Precision Medicine.
The internationally acclaimed Anti-Aging Medical Symposium this year will see a collective effort in addressing the goals of Precision Medicine in the Role of Age Reversal. This new paradigm in medicine raises many questions among healthcare providers and medical practitioners alike as they prepare themselves for the coming wave of customized therapies that will revolutionize the way they work with their patients.
Join us in tapping into the expertise of this elite group of medical and healthcare professionals, scientists, researchers and wellness professionals to exchange ideas, share knowledge, network and advance your skills while being inspired by the pioneering leaders in the industry!
Anti-Aging Medicine aims to maximize the human potential for physical and mental wellness with the primary goal of optimizing the human ageing process. It is a scientifically supported model that focuses on Advanced Clinical Preventive and Regenerative Medicine which is evidenced-based and well-documented by peer-reviewed journals.
The theme this year is 'Precision Medicine in Age Reversal' which will bring together the multi-billion-dollar Anti-Aging and multi-trillion-dollar Wellness industries onto a singular platform. Precision Medicine which is tailored and patient-centric, is more effective in treating various diseases and disorders because of its ability to classify individuals into subpopulations that differ in their susceptibility to a particular disease, in the biology or prognosis of those diseases they may develop or in their response to a specific treatment.
Because it is designed and administered after thorough diagnostics which involves the application of Panomic Analysis and Systems Biology to analyze the cause of an individual patient's disease at a molecular level and then utilizes targeted treatments to address that patient's disease process, the therapeutic interventions can be concentrated on those who will benefit and sparing expense and side effects for those who will not. The participation of the medical industry will have a prominent impact on the Anti-Aging industry for years to come and this, in turn, will help to shape the very future of modern medicine.
Rooted in the latest evidence-based clinical science and research, this premier educational conference will help uncover the transformative impact regenerative medicine can have in clinical practices just like yours.
---
---

---